Making a Web Page in Microsoft Word
1. In MSWord, Select File, New and Select Web Page under the General Tab. Click on OK.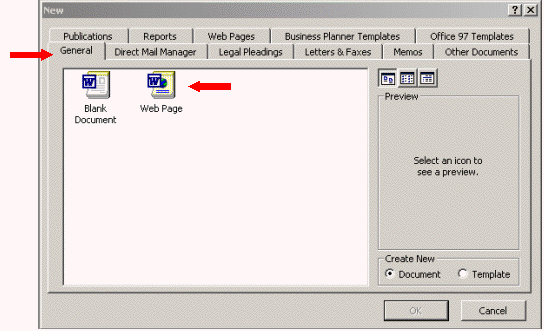 2. Type up your document/home page as you normally would, using whatever font, size and color you wish. Check
1. If you want to add a background click on Format and select Background. You can choose a solid color.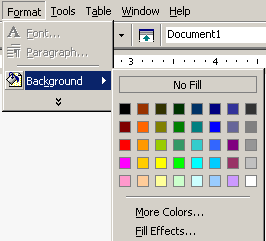 2. Clicking on More Colors… will bring up a rainbow from which to choose. You can select Standard Colors or you Click
on Custom to select gradients within in a specific color.
4. If you select Gradient, you can then chooset the number of colors, shading style, etc., for your background.
5. If you select Texture, yoy can select various colors and textures for your background.
6. If you select Pattern, you can select a pattern and thn choose the foreground and background colors.
8. Click on the Picture Tab and then click on Select Picture.
Or . . . You Can Choose a Theme:

Centered



| | | | |
| --- | --- | --- | --- |
| Heading | Heading | Heading | Heading |
| Border lines are | showing here. | Text | Text |
In the Table below the "Border" has not been de-selected .




| | | | |
| --- | --- | --- | --- |
| Heading | Heading | Heading | Heading |
| Border lines are | removed here. | Text | Text |
Below are several examples of how you can use graphics and text with tables.




You can type an entire paragraph in a cell and add a picture to the left to illustrate your point.

You can align within a cell, whether text or graphics. You can merge cells together to become one or split cells to become two again.



| | |
| --- | --- |
| | This example show the lines, the one below has the lines removed. |



| | | |
| --- | --- | --- |
| Here's a totally different look for a simple table. | Notice that you can shade cells as well or change the width. | This can make your page colorful or call attention to a group of items. |
e
---
To Shade Cells
1. Right Click on your table and click on Table properties.
2. Click on the Boarders and Shading Tab.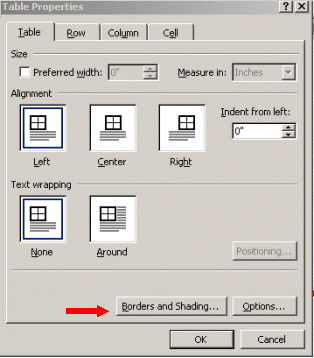 3. You can now select the color, shading, or border you want. Under Apply to: you can select whether you want the color
you chose for an entire Table or just the selected cell.

---
1. If you want your reader to link to another page from yours, select the text you want to be the link and then go to Insert and
select Hyperlink.
2. Either choose from the recent urls listed, copy and paste the url from a page you're currently at in IE or Netscape or type in
1. If you want to add your e-mail as a link, type for example, your name as the link word(s). Highlight your name (selected text)
by putting your cursor right before your name begins and holding down the left mouse button and highlighting the text.
2. Now, select Insert and Hyperlink. Click on the E-mail Address button in the bottom left corner of the dialogue box.
3. Then simply supply the full e-mail address (username@bama.ua.edu). Notice that Word automatically adds the mailto:
statement so that your email will become an active link. You can type in the subject if desired, but that field is typically left
blank.
1.If you want a horizontal division line, put your cursor in the proper place and go to Format and select Borders and Shading.
2. Choose the Borders tab and select the line style, click horizontal line, and then OK.
3. You can then select the line you want, and select the insert icon.
See the examples below.
**You can also find clipart lines on the web that might be more colorful or decorative. You would insert those as you would a picture.**
You might want to use the number and bullet tools on your Formatting Toolbar to show lists on your page.You can even format them to look more decorative.Remember that if you've chosen a theme, your bullet has been already selected to be blend with the theme, but you can certainly change it if you wish.